SNAKES ON A BUSS
by Geoff Williams – 4/11/07
Reprinted from MAGIC Magazine, October 2007, with permission
www.MAGICmagazine.com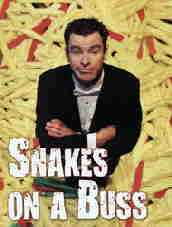 I pulled my luggage from the baggage carousel at LAX and went outside to wait for my ride. I was so excited. This was going to be such a great time: my first week performing in the Close-Up Gallery at the Magic Castle. I pictured myself sleeping in late every morning followed by sipping iced tea on lazy afternoons and then working the Castle each evening. Ah, what a relaxing week this promised to be.
I could not have been more wrong.
I was staying with Eric Buss who was obsessing over one of his latest ideas. Dumping my luggage in the middle of his living room, he turned to me. "I have something to show you. Come with me." Had this been a slasher film, my character would have been headed for certain death. The tiny, sane part of me, which I don't listen to all that often, briefly considered calling 911.
Eric led me briskly through the house, down the back steps and out to the garage. After raising the door, he stood back and grinned… and there it was: a 4-foot high gleaming metal U-shaped set of aluminum shelving on casters, partially covered with those practical joke "cans of nuts" set in rows and at odd angles. It looked like the sort of thing the Phantom of the Opera would have sold on eBay. In my half century on this planet, I'd not seen anything like it. Some of the shelves were empty; this "thing" wasn't anywhere near finished but I could see what it was becoming.
We both started laughing.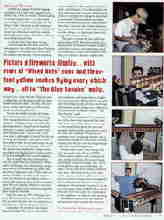 This is exactly the kind of thing that sets Eric apart from his competition. While others are doing a card stab using a magic shop sword, he's bouncing on a pogo stick into tubs of glue and cards. While some are doing a Zombie as per the stock instructions, he's floating a microphone while a mirror ball pops out of an oversized pompadour. He impales rabbits on oversized carrots.
My guess is Eric may have ingested paint chips as an infant.
This, his latest creation, has been affectionately dubbed RFH: "Reset From Hell" (a.k.a. "Spring Snake Symphony"). Freudian imagery aside, this routine is one interesting visual. Try to picture a scaled down fireworks display but, instead of Roman candles with loud explosions and bright flashes of light, it's rows of novelty "Mixed Nuts" cans with soft whooshing sounds and 3-ft long yellow "snakes" flying every which way, all synchronized to Johann Strauss' "The Blue Danube" waltz.
I met Eric back in 1991 in Tucson, AZ. We both joined the local S.A.M. Assembly #136 and, from the very start, he seemed to be marching to a different magic drummer. I remember the very first time he performed his classic "After The Gig" routine in front of a live audience. I was the producer of that particular show and the routine ended with me carrying him offstage as one would a surfboard (this was before the "rabbit-from-boxer-shorts" ending he added a short time later). Recently, that routine has been put on the back burner; he has moved on to other things (about 360 long yellow other things at last count).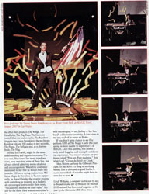 With RFH, he's added a 90-SECOND routine to his show while increasing his reset time by TWO HOURS. Mr. Buss can rest easy; no one would dare expend the time and energy to duplicate this contraption or steal this idea. The Guinness World Records people are even considering whether this is noteworthy enough for their book. It would certainly give the "Guy With The Longest Fingernails" some needed competition.
For the entire week I was staying with Eric, we would work all day on RFH: drilling holes in plastic cans, bending pull-pins, cutting aluminum. He devised trigger mechanisms using coat hanger wire, Velcro levers, gaffer's tape and dental floss. We made at least a half-dozen trips to the hardware store. Almost every day, we'd video a new sequence and he would view it over and over dozens of times, even during meals. Eric's enthusiasm for this new routine was contagious. I found myself craving to try out new and strange ideas for RFH after arriving home late from the Castle. In consideration for his neighbors, we held off until morning.
The different parts of the rack took on various names based on how they work or the effect they produce: The Wings, The Handhelds, The Zig-Zags, The Cannons (which blast 10 snakes each), The Rainbow which triggers two Lawn Sprinklers, the 10 x 10 Rainbow (shoots 100 snakes in TWO seconds), The Piano, The Bellagio and, as a glorious finale, The Flag.
Ilysha, Eric's wife, might be the most understanding and supportive woman I've ever met. She viewed his many taped sessions, even watching some of them live, and always offered admiring words of advice and encouragement. When Eric cautiously mentioned to her that he would really like to order 100 MORE spring snakes from Williams Magic and Novelties in Tucson (and, apparently, he doesn't hinder the creative process with something as pedantic as a budget), she encouraged him to order them soon "because this needs to be done right." My jaw hit the floor. Here was an entertainer's wife encouraging, no, FUELING her husband's addiction to creativity. A tear came to my eye; each of us needs an Ilysha.
If you didn't get a chance to see Eric perform RFH at The Magic Castle this past spring, or were unable to experience it at Magic LIVE! this summer, you missed a truly mind-boggling and strangely-exhilarating experience. You missed what Calvin Yip, Art Professor at Cal State Northridge, called "Pure art. Pure madness." You missed seeing people of different races and religions joined together in the spirit of harmony and love, unified by the experience of a completely nonsensical, one-of-a-kind piece of performance art.
You missed what I call "Cirque du Soleil On Crack."
Max Maven can keep his Gilbreath Principle. To me, RFH is a thing of terrifying beauty. Eric is alive and in good health. It scares me to think of what he might have in store for us next.
May God have mercy on our souls.