Corporate Events:
Eric's high energy act is perfect for waking up the crowd at a breakfast meeting. It's perfect for keeping the otherwise long awards ceremony moving at a rapid pace. It's perfect for relieving some tension after a long day of work. In other words, Eric's perfect for your corporate event! Imagine your corporate logo being the finale of the show. Company messages and products can be intertwined into hilarious routines. The CEO can also be the star of the show! As a bonus, Eric controls all of his own music cues via a remote control from the stage. There is no need for a technical rehearsal. In fact, Eric recommends that the sound technician take a coffee break. This helps create a stress free entertainment package. Eric's goal is to make you look great!
"Eric was hysterical! We ended up hiring him again six weeks later to perform at our tradeshow."
– Lauren Boland, Datex-Ohmeda Medical Systems.
"You were a huge success at our breakfast meeting. It was early and you quickly woke everyone up with your energetic style of comedy and magic."
– Chau Le, Northwestern Mutual Strategic Group
Theatres:
Eric's favorite place in the world is in the theatre. He has performed in them all over the world. He is a master of adjusting his act to fit into the small 60 seat theatres, and filling the large stages of the 5000 seat theatres. His zany props and lots of fast paced music give the feel of a Las Vegas show. However, Eric is still able to connect with everyone in attendance whether they are 8 or 80 years old.
Casinos:
Having performed in the critically acclaimed show "Fusion II" at the Horizon Casino in Lake Tahoe for a year, Eric knows the importance of keeping the show moving. There are many distractions in a casino. There is not a lot of room for subtlety. Eric's hyper personality is a perfect fit for the revue show.
"Eric's talent, professionalism and natural rapport with the audience made him shine above the rest!"
– Paul Reder – Producer, "Fusion 2"
Fairs and Festivals: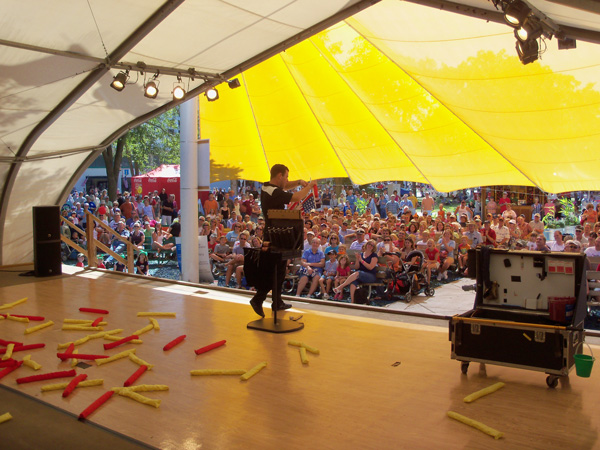 Outdoor performances can be tricky. Although Eric can't control the weather (he's working on that) he can guarantee a big turnout at the outdoor stage. Unlike a theatre, where the audience is already in their seats, outdoor shows require attracting a crowd, then keeping them there. Eric's ability to connect with people instantly and play "BIG" make him the perfect choice for this otherwise "tough" situation.
"Eric Buss delivers a unique brand of magic and comedy. He drew consistently large crowds to our outdoor stage, and kept them there."
— Brett Chance, Ohio State Fair

"Eric Buss was a great part of the free entertainment lineup at the 2006 State Fair of West Virginia. He was funny, interactive with the audience, and fast paced. Audience members enjoyed the variety of routines in his show and he was good at involving the audience in his performance. I highly recommend him for his fun and entertaining show."
— Pamela Edwards, West Virginia State Fair
Comedy Clubs:
Eric's fast paced act is perfect for the short attention span comedy club audience! Plus, he fills the stage with his props, music, and his personality, which gives the show a higher production value. Although his act is always clean, comedy clubs give him the freedom of adding some "edge." Oh, and he's hilarious!
A real crowd pleaser. Original and Funny!"
— Russ Rivas, Owner, Laffs Comedy Club
Colleges:
Eric went to college. He even attended some of his classes and learned stuff. More importantly he knows how to connect with the younger, hipper crowds in college. If your campus books a comedian, they will get a person talking into a microphone. If they book a musician, they will get a person singing into a microphone. If you book Eric, you will get fast-paced comedy, music, props, magic, crazy inventions and audience participation all intertwined into a non-stop show with a Las Vegas production value, that doesn't break your budget.
"He delivered an hilarious, high energy show that kept the student interested and involved. We would definitely recommend Eric Buss to any potential talent buyer."
— Niki Graham, Assistant Coordinator, Northern Arizona University.